2012-09-26 14:18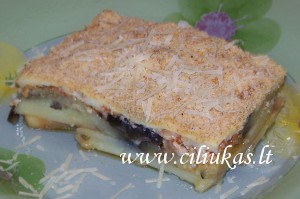 Neseniai iš Danijos trumpam parlėkė Astutė – draugė mano mieliausia. Susibėgom pas jos tėvelius kavos, naujienomis pasidalinti ir begeriant kavą akis užkliuvo už dubenyje gulėjusių baklažanų. Pasiklausiau savo draugės, ką iš jų jinai gamina. Sako – Musaką. Buvau apie tokį girdėjusi, puoliau klausti smulkiai, kaip ir ką daryti, kaip gaminti. Taip skaniai jinai man nupasakojo, kad už kelių dienų puoliau gamint.
Skanu, skanu ir sotu. Labiausia tiko mano namiškiams ir bulvių, ir mėsos – svajonių patiekalas. Pagamint Musaką nėra labai greita, bet verta. Pirmą kartą gamindama neišvengiau klaidų, bet kitam kartui žinosiu ką daryt. Bulves supjaustyt ploniau ir faršo sluoksnis tikrai turi būt didesnis, maniškis dingo tarp bulvių ir baklažanų, bet skonio tai nesugadino. Asta pasakojo, kad į faršą deda kepintą tarkuotą morką, šį kartą dariau be jos, bet kad tiktų morka – neabejoju.
Reikės (didelei kepimo formai):
~ 5 – 8 vidutinių bulvių,
2 baklažanų,
700 g. jautienos faršo,
svogūno galvos,
1 morkos,
2 česnako skiltelių,
3 pomidorų arba 200 g.  konservuotų pomidorų be odelių,
druskos, pipirų, džiovinto raudonėlio,
pusės citrinos sulčių,
aliejaus kepimui,
5 VŠ maltų džiuvėsėlių.
Baltajam (bechamel) padažui:
500 ml pieno,
pusės svogūno,
50 g. sviesto,
2 VŠ miltų,
lauro lapo, druskos, pipirų, muškato riešuto,
3 gvazdikėlių.
Gaminame:
Bulves ir baklažanus supjaustome griežinėliais, griežinėlius kelias minutes apkepame aliejuje, sudedame ant popierinių rankšluosčių, riebalams sugerti, pabarstome druska.
Svogūną susmulkiname pakepiname, kol suminkštėja, baigiant sudedame smulkintą česnaką, dar minutėlę pakepame.
Sudedame faršą. Kepame, kaip lazanijoje – žiūrėti čia. Apkepus faršą, gardiname druska, pipirais, raudonėliu. Dedame smulkintus pomidorus arba smulkintus konservuotus, spaudžiame citrinos sulčių ir viską patroškiname, kol beveik išgaruoja vanduo.
Verdame bešamelio padažą, vėl kaip lazanijoje – žiūrėti čia. Jei šis variantas atrodo per ilgas jis to vertas tikrai, nes skanesnio padažo nerasit, tuomet galima reikalą supaprastinti: ištirpiname sviestą, beriame miltus, porą minučių maišant pakepiname. Maišant pilame  pieną ir verdame, maišydami, kol užverda.
Sluoksniuojame muską:
Išdėliojame buvių sluoksnį.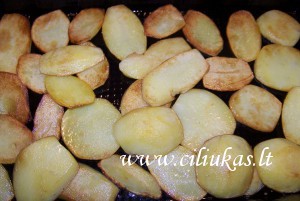 Virš bulvių – baklažanų sluoksnis.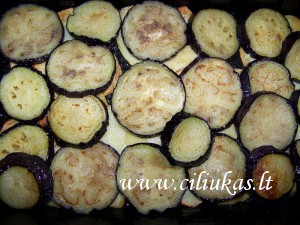 Virš baklažanų – farš0 sluoksnis.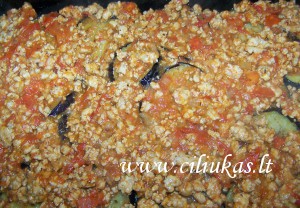 Viršutinis sluosnis – baltojo padažo arba bešamelio.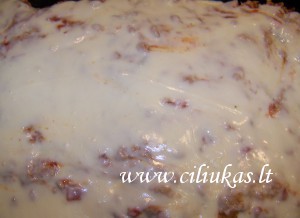 Kad kepant bešamelis nesudegtų bartome viršų maltai džiuvėsėliais.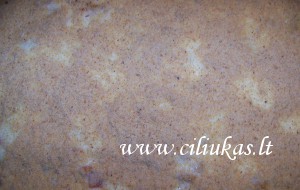 Kepame 180 laipsnių temperatūroje ~ 30 – 40 min.
Skanaus!
Tags: baklažanai, bulvės, faršas

Kategorijos: Bulvių valgiai, Mėsos patiekalai, Pietums, Receptai
Atsakymų į "Astutės "Musaka" arba graikiškas "Musaka" pagal Astą…": 70