2012-06-17 18:53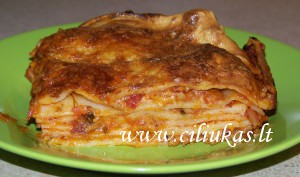 Šis lazanijos receptas yra vienas iš tų , kurį radęs, daugau ieškot nebenori. Kadangi nenoriu būti diletante, o pati maisto ruošimo nesimokiau, žiūriu, kaip patiekalus gamina išmanantys ir mokausi. Iki šio lazanijos ruošimo recepto, manosios lazanijų versijos būdavo, sakykim – nelabai… ir kai radau šį receptą supratau, kad ieškojimai baigėsi. Dabar lazaniją gaminu tik taip, ne vienus metus gaminu, todėl jau drąsiai darau pakeitimus pagal save. Lazanija nėra labai greitai paruošiamas patiekalas, kad būtų greičiau galima mėsos padažą pasidaryti iš vakaro.
Klasikinei lazanijai svarbūs trys dalykai:
makaronų lakštai (geriausia švieži, šaldyti),
mėsos padažas,
baltasis padažas (bechamel), be jo lazanija būna nestabili, išsivažinėjusi.
Reikės:
Lazanijos lakštų,
tarkuoto parmezano (naudoju Džiugą).
Mėsos padažui:
svogūno,
morkos,
saliero stiebo,
2 česnako skiltelių,
250 g. kiaulienos faršo,
500 g. konservuotų pomidorų (geriausia be odelės),
3 VŠ pomidorų padažo (be priedų)
druskos, pipirų, džiovinto raudonėlio,
aliejaus kepimui.
Baltajam (bešamelio) padažui:
500 ml pieno,
pusės svogūno,
50 g. sviesto,
2 VŠ miltų,
lauro lapo, druskos, pipirų, muškato riešuto,
3 gvazdikėlių.
Gaminame:
Mėsos padažą:
Svogūną, morką, salierą nuplauname, nulupame, supjaustome smulkiai, morką sutarkuojame. Į keptuvę pilame šlakelį aliejaus ir sudedame daržoves. Apkepame pamaišant, kol suminkštėja ~ 4 – 5 min.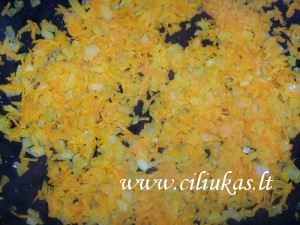 Padidiname kaitrą, sudedame faršą ir kepame, kol apskrunda. Faršą geriausia dėti dalimis, kad mėsa keptų, o ne troškintųsi. Aš dedu plonus blynelius, ir kepant faršą išskirstau, kol lieka smulkus.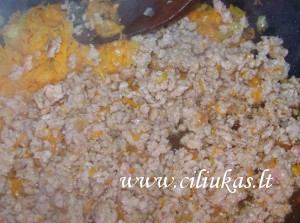 Faršui apkepus supilame konservuotus smulkintus pomidorus (su kombainu sutriname arba su peiliu supjaustome, jei pomidorai su odelėmis, odeles nulupame). Dedame kelis šaukšus pomidorų padažo (naudoju Kėdainių be konservantų). Beriame raudonėlį. Baigiant troškintis dedame smulkintą česnaką.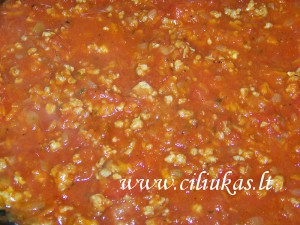 Troškiname 40- 45 min.
 Baltąjį padažą:
Į puodą supilame pieną, dedame svogūno pusę, lauro lapą, gvazdikėlius ir užverdame. Paliekame atvėsti. Atvėsus pieną perkošiame. Visi prieskoniai suteikia nuostabų aromatą. Viena mano draugė, skundėsi, kad šis padažas jai neskanus. Todėl jei nemėgstate svogūno ar panašiai, į pieną nedėkite nieko, tiesiog užvirkitite ir viskas.
Ant vidutinės ugnies ištirpiname sviestą, beriame miltus ir maišant juos pakepame 2 – 3 min. Maišant plaktuvu, pamažų supilame pieną ir padažą pavedame 5 min.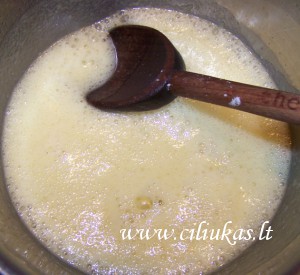 Gardiname druska, pipirais, muškatu.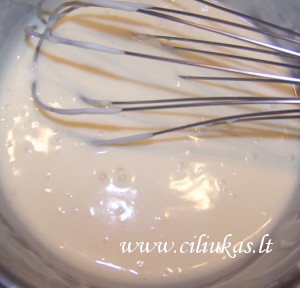 Ruošiame lazanijos lakštus:
Man pirkti džiovinti makaronų lakštai – košmarų, košmaras. Lazanija su jais katastrofiškai neskani, todėl perku šviežius arba makaronus darausi pati.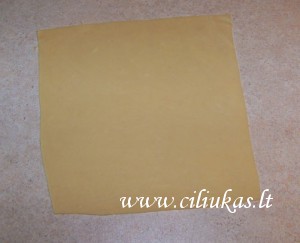 Prieš sluoksniuojant lazaniją lakštus apverdu 1 – 2 min. arba darau, kaip rašo instrukcijoje.
Apvirtus makaronus sudedame į šaltą vandenį, kad atvėstų.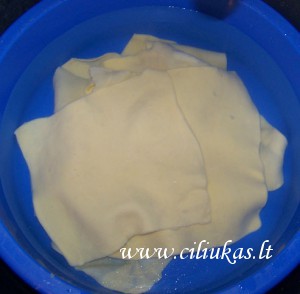 Sluoksniuojame lazaniją:
Formą patepame aliejumi, dedame makaronų lakštą. Tepame ploną sluoksnį mėsos padažo.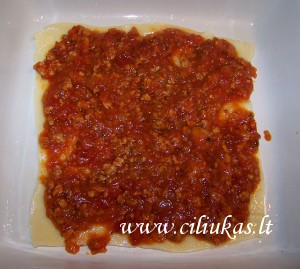 Ant mėsos padažo tepame sluoksnį baltojo padažo.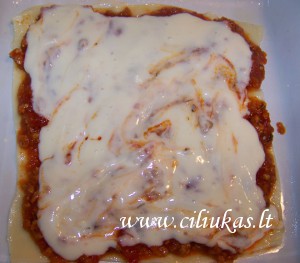 Dengiame makaronų lakštu ir vėl dedame sluoksnius. Paskutinis – baltojo padažo sluoksnis, ant jo barstome tarkuoto Džiugo.
Kepame iki 180 laipsnių įkaitintoje orkaitėje ~ 50 min., kol apskrunda lazanijos viršus.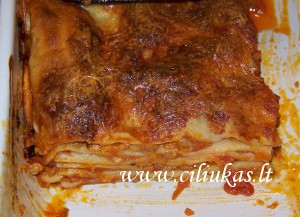 Skanaus!
Kategorijos: Mėsos patiekalai, Padažai, Pietums, Receptai, Svečias, Vaikams
Atsakymai į "Lazanija arba klasikinė lazanija…": 74