2012-09-27 19:48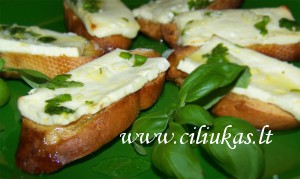 Vakar nusprendžiau pasilepinti, nors gaminau graikišką troškinį, nusprendžiau tvirtai – vakarienę valgysiu savo, kitokią nei šeima. Taip užsinorėjau ko nors lengvo, "sūriško". Prisiminiau Beatos laidoje matytus sumuštinius su dviem sūriais, kapareliais ir salsa verde padažu. Salsa verde man netinka dėl ančiuvių, nebėda – turiu savajį užpilo variantą. Beveik tas pats, tik be ančiuvių, o šį kartą ir be kaparelių. Nusprendžiau, bet kol pasigaminau iš savo kalno verkiančių pomidorų sultis, kol sužiūrėjau šeimos vakarienę, kol apšokinėjau sergančią mažąją, buvo taip vėlu, kad nebesinorėjo ir savosios vakarienės, vos vieną sumuštinį prisiverčiau suvalgyt, juk taip su noru dariau, kelis skaniausiai sušveitė, jau prisikirtęs troškinio brangusis, taigi dar keli sumuštiniai liko gulėt iki rytojaus. Ryte jie man labai viliojantys pasirodė, ir nustebau – karšti buvę vakar, šiandien iš ryto buvo gal net dar skanesni. Va tau ir karšti. O sūris, turėjau tik Vilkyškių "Fetuva", tas iš viso nustebino, per netyčia papuolęs ant sumuštinio sužibėjo, kaip tikra žvaigždė, beje Beata naudojo: mozzarella ir feta sūrius.
Reikės:
Prancūziško batono (naudojau su česnakinio sviesto įdaru),
fetos sūrio (naudojau Vilkyškių "Fetuvą"),
Užpilui:
pusės citrinos sulčių (galima keisti balto vynuogių vyno actu),
kelių VŠ alyvuogių aliejaus,
česnako skiltelės,
kelių šviežių baziliko lapelių,
pipirų, druskos.
Gaminame:
Batono riekeles kelias minutes paskrudiname 200 laipsnių temperatūros orkaitėje.
Ant karštų riekelių sudedame fetos riekeles ir dar minutėlei šauname į orkaitę, kol sūris lengvai lengvai pasilydys.
Užpilą:
Į indelį pilame kelis VŠ aliejaus, spaudžiame česnaką, beriame smulkintą baziliką, spaudžiame citrinos sulčių. Išmaišome. Beriame kelis grūdelius druskos,pipirų. Išmaišome, ragaujame – turi būt rūgštoka, bet maloniai. Jei per rūgštu, galima berti šiek tiek cukraus arba naudoti balto vyno actą.
Karštus sumuštinius užpilame užpilu ir mėgaujames.
Skanaus!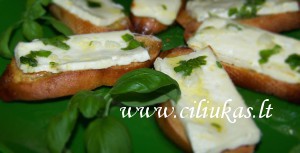 Tags: aliejus, česnakai, citrina, feta, prancūziškas batonas


Kategorijos: Duona, Greitai paruošiama, Receptai
Atsakymai į "Karšti sumuštiniai su feta arba variacija Beatos sumuštinių tema…": 72