2012-05-10 14:12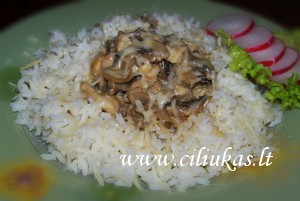 Šis patiekalas jau virš dešimt metų nenusileidžia jokioms naujovėms. Senas, geras, laiko patikrintas receptas. Skonis – niekada nenuvilia. O svarbiausia – vyriškoji pusė pamena, ne tik skonį, bet ir kaip vadinasi, nes kai paklausi "ką valgyt?" dažniausia žino vieną patiekalą – "nežinau", o šitą kaip nekeista pamena, dažnai išgirstu "milžinų", vadinasi, patiekalas to vertas. Pagaminamas lengvai, gal tik ne taip greitai kaip norėtųsi.
 4 porcijoms reikės:
~ 500 g. vištienos krūtinėlės arba filė, arba šlaunelių mėsos,
~ 300 g. pievagrybių,
~ 250 g. ryžių,
200 ml grietinėlės,
svogūno galvos,
trupučio sviesto,
druskos,
mėgstamų vištienos prieskonių (naudojau raudonėlį ir maltą raudoną papriką),
poros skiltelių česnako,
tarkuoto "Džiugo" pabarstymui,
alyvuogių aliejaus kepimui
Gaminame:
Kol verda ryžiai, ruošiame vištieną: supjaustome vištienos krūtinėlę plonais šiaudeliais ar kubeliais ir pakepiname su šlakeliu aliejaus, šiek tiek drusk0s bei mėgstamais prieskoniais. Geriausia pradėti kepti naudojant didžiausią kaitrą, baigiant kepti kaitrą sumažiname ir dedame smulkintą česnaką. Pakepame, kol česnakas nuostabiai pakvimpa.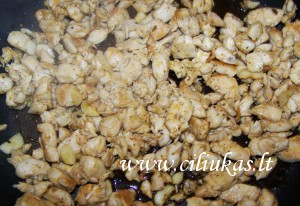 Baigus kepti vištieną išimame į kitą indą.
Į tą pačią keptuvę, kur kepė vištienos krūtinėlė, beriame smulkintą svogūno galvą ir pakepame, kol svogūnai lieka skaidrūs. Jei reikia įpilame šiek tiek alyvuogių aliejaus. Baigiant kepti svogūnams sudedame pjaustytus pievagrybius. Užpilame šiek tiek virinto vandens ir uždengę dangčiu patroškiname (~15 min.). Pagardiname druska, tik nedaug, nes prieš tai sūdėme vištieną.  Baigiam troškinti, kai  vandens keptuvėje beveik nebelieka, jei paragavus grybai atrodo žali, pilam dar šiek tiek vandenuko ir tęsiam procesą. Kai pievagrybiai baigia troškintis dedame šiek tiek sviesto (jei daug aliejaus – nededame) ir supilame prieš tai iškeptą vištieną.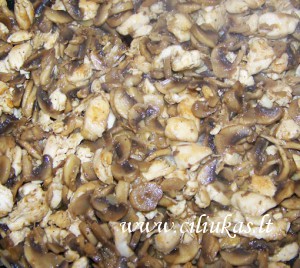 Viską minutę kitą pakepame su trupučiu sviesto, pamaišome. Pabaigai pilame grietinėlę ir truputį leidžiame jai pavirti, labai trumpai.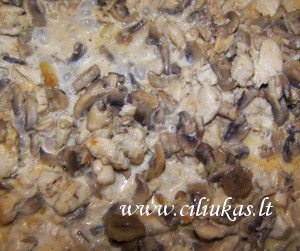 Paragaukit, jei norisi pagardinti druska ar prieskoniais – pirmyn.
Valgome su virtais ryžiais, kol pasigaminsit vištieną su pievagrybiais, ryžiai tikrai bus išvirę. Nuostabu, jei apibarstome tarkuotu "Džiugu" ir luktelim, kol jis išsilydo.  Jei šalia bus šviežių daržovių ar daržovių salotų – tikrai tiks ir pritiks. Tiems, kas negali be pomidorų ar kito padažo – drąsiai gardinkit jei tik noro yra.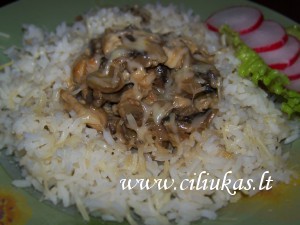 Skanaus!

Tags: grietinelė, pievagrybiai, ryžiai, vištiena, vištienos krūtinėlė


Kategorijos: Pietums, Receptai, Vištiena
Atsakymas į "Vištiena su pievagrybiais arba mūsų šeimos "Milžinai"….": 61