2012-05-06 22:53
90 Comments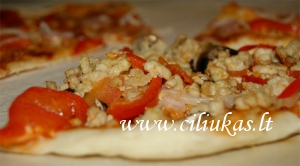 Jei ne maisto tinklaraščių atsiradimas, nežinau kiek ilgai, būčiau likus ieškojimuose, picos pagrindo ieškojimuose. Kokių tik nesu kepus, kietų, puskiečių, labai neskanių ir beveik skanių…. Kol radau Alminos iš "Alminos virtuvė" receptą. Ji rašė išbandžiusi tikrus itališkus receptus, na, o kas geriau  už italus moka kept picas? Receptas puikus, bandykit, ragaukit nemanau, kad nusivilsit.
 3 didelių picų pagrindams reikės:
500 g. miltų,
350 ml drungno vandens,
1 AŠ cukraus,
1 AŠ druskos,
1 pakelio sausų mielių (7 g.),
2 VŠ alyvuogių aliejaus
picos pagrindų padažui reikės (super dalykas, nebūtinai, bet kai yra labai gerai):
6 VŠ pomidorų padažo be priedų,
1 AŠ  raudonėlio,
1/2 AŠ čiobrelių,
1/2 AŠ česnako granulių.
Galima vietoj raudonėlio ir čiobrelių – picos prieskonius.
Gaminame picos pagrindus:
Į dungną vandenį beriame cukrų ir mieles. Išmaišome, sulaukiame, kol mielės pradės "vaikščioti" (suputoja). Miltus beriame į dubenį, pasidarome duobutę ir į tą duobutę supilame druską ir aliejų, taip pat pradėjusias vaikščioti mieles su vandeniu. Kol galima tol maišom, vėliau minkom. Minkom ir minkom…. kol tešla nebelimpa prie rankų, prie dubens.  Ilgas tai procesas jei tingisi, man tai trunka apie 10 – 15 min. Minkai minkai, kol pradedi jausti, kad tešla liko vientisa, minkšta ir nelipni. Padalijam tešlą į tris dalis, uždengiam dubenį maistine plėvele ir kildinam. Jei šiltoje vietoje, procesas bus greitesnis, negu kambario temperatūroje.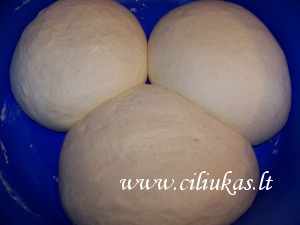 Tešlai  pakilus imame po vieną dalį ir …. visaip bandžiau, bet nekočiotai picai, o ištampytai rankomis, be kočėlo, tiesiog nėra lygių. Ši tešla bus tokia minkšta, tokia tampri ir nelimpanti prie paviršių, kad padaryt iš jos apskritimą, ne nebūtinai lygų kaip apibrėžtą, bus labai paprasta. Imam tešlos dalį, ir pasidarom apskritimą, vis patampom ir patampom žemyn, pasidedam ant stalo arba ant kepimo popieriaus (man taip geriausia) nereikia net miltuot, viena ranka lengvai  pr ilaikom už vidurio, kita patempiam į šoną ir žiūrėk jau plonas apskritimas žiūri į tave.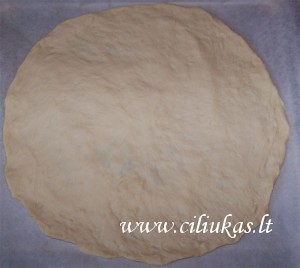 Ir taip tris kartus.
Gaminame picos pagrindų padažą: juokauju, ką gi čia gaminti, tiesiog viską suberiame į pomidorų padažą ir išmaišome. Jei padažą pasigaminsite tik pradėję kildinti tešlą – puiku. Česnako granulės ir žolelės turės laiko subręsti. Padažas – pakvipti nepakartojamai.
Gaminame picą:
Picos pagrindą ištepame picos padažu (jei pasigaminome, jei ne  – bet kokiu).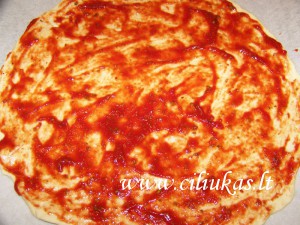 Barstome tarkuotu fermentiniu sūriu ir toliau visi mėgstami dalykai. Mes dedam: keptą faršą, pjaustytus svogūnus, pievagrybius (aš juos pakepčiau, bet vyras – prieš),pomidorus, kaparėlius.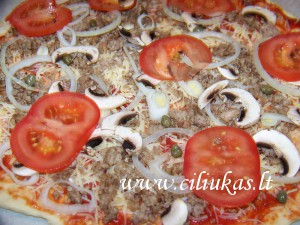 Kepam iki 180 – 190 laipsnių įkaitintoje orkaitėje. 12 minučių, tik dėdami produktus ant pagrindo išlaikykit saiką. Geriausia kepti ant orkaitės dugno.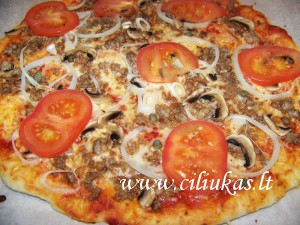 Skanaus!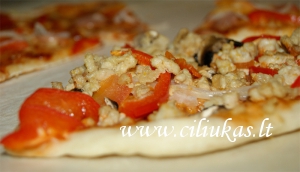 Šaltinis: čia.

Tags: faršas, pica, picos pagrindas


Kategorijos: Pietums, Receptai
Atsakymų į "Alminos pica mūsų virtuvėje…": 90