2012-10-09 20:25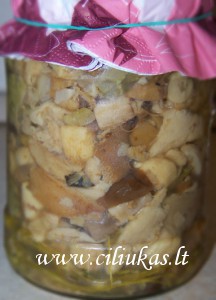 Matyt kiekvienas iš mūsų turi vaikystės mėgstamiausius ir nemėgstamiausius patiekalus. Aš ir šiandien negaliu pagalvoti apie prancūzišką skrebutį, kurio gaudavau pusryčiams prie kakavos… Kaip aš jo nekenčiu… bet dabar ne apie tai…
Šiandien aš apie raugintus grybus. Koks tai nerelaus vaikystės patiekalas. Net širdy šilta darosi, kai prisimeni… ne visi turbūt žino, kad aukštaičiai turi (tie, kas turi  namus ar sodybas) tokį pastatą, kurį vadina "virtuvela". Tai prie ūkinio pastato prisišliejęs kambarėlis – virtuvė. Jo pagrindinė paskirtis – virti bulves ar burokus auginamiems gyvuliams, kad nereiktų tuo viralu smirdinti gyvenamo virtuvės. Kiaulaitėms virdavo kas dieną, po didelį puodą. Taigi, toje virtuveleje buvo krosnis (pečius) tuo pačiu senelis mamai sumūrijo krosnį su duonkepe (apie duoną jau rašiau seniau). Tai ant to pečiaus ir šalia jo, gimdavo skaniausi patieklai. Vienas iš jų –  rauginti grybai. Negaliu, net rašant seilė tysta… Mano mama turėdavo tokį nedidelį medinį kubiliuką, tokį tiką tikrą, kur išdžiūvus lentutės išbyrėdavo, ir norit vėl raugti grybus, reikdavo lentutes išbrinkint vandenyje ir tada jis vėl būdavo kubiliukas, ne lentukių rinkinys… Taigi, kiekvieną rudenį tas kubiliukas gaudavo raugint grybus, dažniausia – kelmučius, kurių mano krašte auga sočiai. Prisirinkdavome tų kelmučių į valias ir mama juos sūdydavo, raugindavo ir ko tik nedarydavo… Be proto skanu vidurį žiemos ant pečiaus keptos bulvės su raugintais grybais ir grietine. Baigiant kepti bulvėms sudedami grybai, visai pabaigai viską gardinant grietine. Dieviškai skanu!
Šiendien jau nėra nei to kubiliuko, nei tų namų, nei virtuvėlės, bet mamos rauginti grybai vis dar mano mylimiausi.
Reikės:
Rauginti tinka visi grybai, bet rauginame įprastai tuos kurių negaila – gruzdus, kelmučius, ūmedes, voveruškas, kazlėkus ir t…
druskos,
pipirų,
serbentų lapų, krapų, česnakų, laurų ir t.t.
Gaminame:
Grybai nuvalomi, nuplaunami, sudedami į puodą ir užpilami vandeniu. Kaitinami, kol užvirs. Nugraibomos putos.
Verdame – 30 min.
Išvirti grybai nupilami į kiaurasamtį ir nuvarvinami.
Grybai sudedami į medinius, emaliuotus ar stiklinius indus ir barstomi valgomąją druska.
Vienam kg šviežių grybų imama 30 g. druskos.
Į indo dugną dedame prieskonių (pipirų, serbentų, krienų lapų, krapų, česnakų ir t.t…), užklojame marle, uždengiame dangteliu, jei reikia paslegiame akmeniu.
Skanaus!
Kategorijos: Konservavimas, Mamos virtuvė, Receptai, Sriubos
Atsakymai į "Rauginti grybai arba mano vaikystės mylimiausi…": 69