2012-07-31 16:51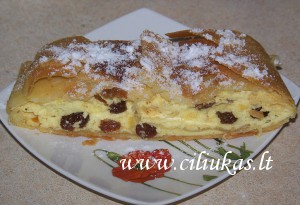 Pamačiusi liepos mėnesio kepėjų be stabdžių iššūkį iškarto žinojau, būtinai jį priimsiu. Apie štrudelius buvau girdėjusi ir visai norėjau pabandyti jį iškepti.  Bėgo mėnuo, vėsias dienas keitė vis karštesnės ir noras kepti štrudelį vis mažėjo ir mažėjo… Kol ėmė degti uodega… Laikas privertė susigrąžinti norą kepti štrudelį, gerai, kad tuo pačiu sugrąžino ir vėsius orus.
Šiek tiek prisibijojau to popieriaus plonumo tešlos,  bet viskas pasirodė daug paprasčiau negu galvojau. Labai jau lengva tą tešlą ištampyti, iškočioti, nes ji būna labai minkšta. Labai patiko tas varškės štrudelis mano šeimai, mano brangiausias, kuris višiskai nemėgsta saldumynų įvertino jį "superinis", mama su tėčiu irgi šveitė, net ausys lapsėjo ir vis linksėjo, kad skanu.
Reikės:
Tešlai:
250 g.miltų,
žiupsnelio druskos,
125 ml drungno vandens,
50 g. lydyto sviesto.
Įdarui:
1 kg varškės (20 % riebumo)-  naudojau 650 g. varškės 9 % riebumo,
100 g razinų,
5-6 VŠ romo,
2 VŠ lydyto  sviesto,
vanilės ankšties,
150 g cukraus,
3 kiaušinių.
Aptepimui:
4-5 VŠ maltų džiūvėsių,
cukraus pudros apibarstymui,
1 VŠ aliejaus tešlai aptepti,
125 g. lydyto sviesto, tepti štrudeliui kepant.
Gaminame:
 Tešlą:
Į miltus supilame druską, sviestą ir vandenį. Užminkome minkštą tešlą. Minkom ir daužom į stalą tešlos gabalą, kol tešla lieka minkštutė. Darbuojamės geras 5 – 10 min. Tešla būna minkšta ir nelipni. Maloni liesti ir minkyti.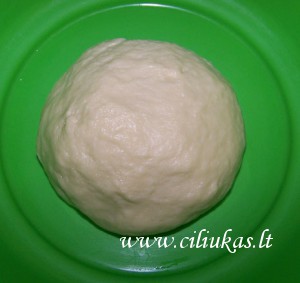 Užminkytą tešlą dedame į dubenį nupiltą karštu vandeniu, aptepame aliejumi,  uždengiame  ir paliekame valandai pasibūti ramiai.
Įdarą:
Varškę imiau pusriebę, tad jos tikrai nepalikau nuvarvėti, jau tikrai ten nebuvo kam varvėti.
Razinas nuplauname, užpilame romu ir paliekame valandai.
Į dubenį sudedame: varškę, cukrų, kiaušinius, sviestą. Išskrebentą vanilę iš ankšties. Viską gerai ištriname (naudojausi trintuvu – blenderiu). Pabaigai sudedame rome brinkintas razinas.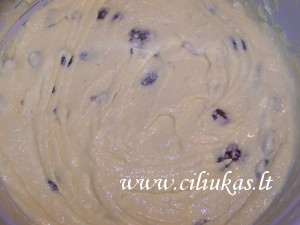 Štrudelį:
Ant stalo tiesiame rankšluostį. Ant jo barstome šiek tiek miltų ir iškočiojame stačiakampį. Kuo plonesnį. Orientacinis dydis 30 X 40 cm.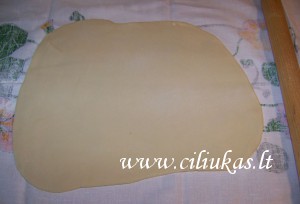 Iškočiojus pakišame rankas (delnais žemyn) ir tampome tešlą iki popieriaus plonumo. Tampiau kol pradėjo šviestis rankšluosčio raštai. Didelis toks stačiakampis gavosi.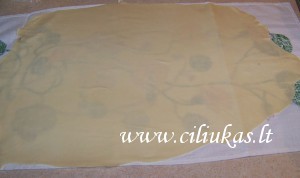 Tešlą aptepame lydytu (125 g.) sviestu ir pabarstome maltais džiuvėsiais.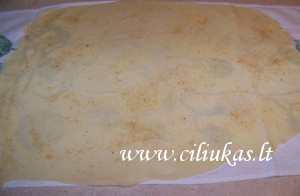 Palikdami nuo kraštų po 2 cm sudedame varškės įdarą.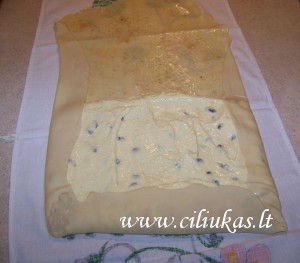 Rankšluosčio pagalba susukame študelį. Dedame jį į kepimo popieriumi išteptą skardą.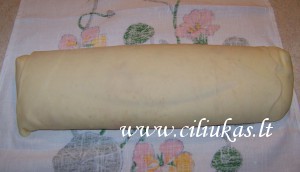 Štrudelį aptepame sviestu.
Kepame iki 175 laipsnių įkaitintoje orkaitėje, nenaudodami grilio funkcijos, 45 – 50 min. Kepant nuolat aptepti sviestu.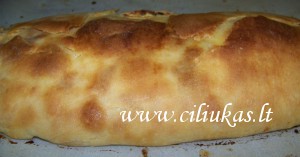 Iškeptą varškės štrudelį apibarstome cukraus pudra.

Valgome karštą su ledais ar plakta grietinėle, nors man nebereikėjo nieko. Skanus dalykas tas štrudelis.  Skaniausias jis man šiek tiek vėstelėjęs, tada atsiveria visu grožiu plonytės tešlos skonis. Štrudelis kepdamas šiek tiek išplero į kraštus. Kažin ar taip ir turi būti?

Skanaus ir ačiū Agnei už iššūkį!

Tags: kiaušiniai, miltai, Varškė


Kategorijos: Desertai, Receptai, Varškės patiekalai
Atsakymai į "Varškės štrudelis arba kepėjų be stabdžių iššūkis…": 78