2012-12-26 11:31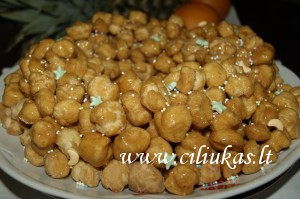 Kai pamačiau Gruodžio mėnesio "Kepėjų be stabdžių" iššūkį, buvau sužavėta. Gal čia ir itališkas saldumynas, bet jau nuo seno žinomas ir pas mus. Mes su mama jį vadiname  "parpulių" tortu. Kepdavome jį ir net supratimo neturėjome apie jo kilmę. Taigi šitas reikalas jau buvo žinomas, o dar kaip tyčia, mama jau ne pirmą mėnesį kalbino tą "parpulių" tortą pasigamint, taigi viskas susiklostė tik "UŽ".
Ramia dūšia imiausi aš to Strufolio. Veltui. Koją pakišo, kaip tik – patirtis. Pradėjusi gaminti tešlą, pamačiau, kad jos receptas beveik analogiškas mano žagarėlių receptui, apie kurį jau rašiau čia. Kur bėda? Žinojau, kaip ši tešla "pučiasi", nežinojau ar bus gražūs Struffoliai. Nutiko tai, ko ir tikėjausi, Struffoliai išsipūtė, išsižiojo, išsikėtė, o vaizdas visai neglostė akies.  Vietoj tobulai ovalių, maniškiai buvo: kreivi, šleivi, praplyšusiais pilvais, tarsi pikdžiugiškomis šypsenomis. Man tešlai norėjosi daugiau miltų, bet laikiausi duoto recepto…
Prastos išvaizdos Struffoliai tai pirma bėda. Antrą kartą koją vėl pakišo patirtis, patirtis verdant medaus sirupus.  Žinojau, kad  per trumpai virtas sirupas nieko nesuklijuos, o pervirtas bus kietas ir guminis. Virdama pradėjau bijot ir to, ir kito varianto. Na bet bent jau sirupas gavosi geras…
 Nors akis badyte badė tos struffolių pikdžiugiškos šypsenos, skoniui tai nepakenkė, saldu – gardu, visai neblogai. Pati, Struffoli di Napoli kurį pagaminau, vertinčiau  7 balais iš 10 – ies. Mano tėtis buvo vyriškai santūrus, nepagyrė, bet, kad skanu irgi nesakė, mamos nuomone: " tiems struffoliams kažko trūksta", o brangusis išsitraukė sunkiąją artileriją: "nelabai", suprask – nieko gero. Įdėjau šio dalyko paragauti vyro brolio šeimai, lauksiu jų nuomonės…
Kaip niekada bus įdomu, koks gi Struffoli di Napoli gavosi kitiems, priėmusiems iššūkį. Įdomu ar kilo tokių bėdų kaip man. Laukiu nekantraudama gruodžio mėnesio apžvalgos…
Reikės:
Tešlai:
5 vidutinio dydžio kiaušinių,
3 VŠ cukraus,
450 g miltų (šiek tiek reikės pabarstymui),
1/2 citrinos žievelės,
1/2 apelsino žievelės,
žiupsnelio druskos,
1 VŠ degtinės (pilt į aliejų virimui)
aliejaus virimui.
Sirupui:

1/2 citrinos žievelės,
1/2 apelsino žievelės,
250 g medaus,
100 g cukraus,
2 VŠ vandens.
Papuošimui:
pabarstų,
cukatų ir kitų gražumų.
Gaminame:
 Struffolius:
Kiaušinius išplakame su cukrumi, beriame druskos, tarkuotas citrinos ir apelsino žieveles.
Tešlą gerai išminkome, kol liks elastinga, nelipni tešla.
Iš tešlos padarome rutulį, jį dedame į dubenį, uždengiame ir paliekame 2 -3 valandoms subręsti.
Subrendusią tešlą padalijame į gabalėlius.
Iš tešlos gabalėlių formuojame mažojo piršto storio volelius.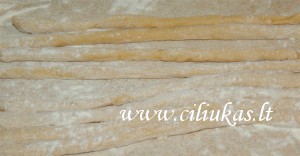 Volelius supjaustome lazdyno riešuto dydžio gabalėliais.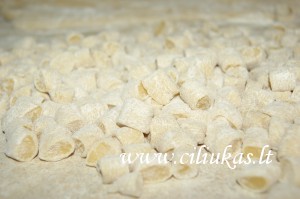 Kad nesuptų gabalėliai juos šiek tiek pabarstome miltais.
Struffolius verdame įkaitintame aliejuje, kol išsipučia ir gražiai parausta.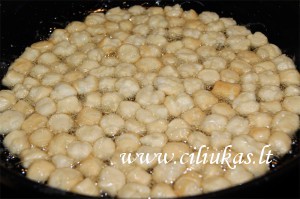 Išvirusius dedame ant popierinio rankšluosčio, kad susigertų riebalai.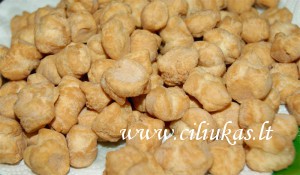 Sirupą:

Medų, cukrų, vandenį supilame į puodą ir kaitiname ant nedidelės ugnies, kol ištirpsta cukrus.

Į sirupą sudedame nuo apelsino, citrinos nupjautas žievelės juosteles (be baltosios dalies, pjauti reikia plonai plonai, kitaip bus kartu).

Sirupą su žievelėmis verdame, kol jis lieka tirštas, lipnus. Virdama orientuojuosi pagal burbulus, jei jų daug ir smulkūs, virti reikia toliau, kai pradeda mažėt bulbulų, bet jie tampa didesni, tai reiškia artėjančią virimo pabaigą.

Struffoli di Napoli:

Išvirtus struffolius suberiame į sirupą, išmaišome. Sudedame juos žiedo forma. Papuošiame.

Skanaus!

Daugiau apie iššūkį: čia.

Tags: aliejus, cukrus, kiaušiniai, medus, miltai


Kategorijos: Desertai, Receptai, Svečias, Vaikams
Atsakymų į "Struffoli di Napoli arba Kalėdinis itališkas saldėsis…": 80