2012-05-01 16:45
587 Comments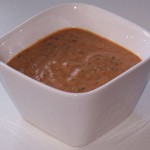 Šeimynai pageidavus susiruošiau gaminti kebabus (tikriau šavarmą) ir apsižiūrėjau, kad namie nėra nei lašo harisos (Harisa (harissa) – aštrus, čili (mano atveju) pipirų padažas su česnakais, kalendra ir kt. priedais. Be jos neįsivazduojamas patiekalas Šiaurės Afrikoje – Tunise, Maroke, Alžyre ).
Jei mėgtstate aštrų maistą tai suprantate, ka toks padažas būtinai turi būt šaldytuve. Man harisa tinka ne tik su mėsos patiekalais, bet visur kur norisi aštrumo.
Pasidaryt jį labai lengva .
Labai aštriai džiovintų čili pipirų harisai reikės:
12 džiovintų čili pipirų (maniškiai neįtikėtinai mažiukai, teko imti 30),
10 česnako skiltelių,
1 VŠ maltų kmynų,
1 VŠ malto kumino,
1 VŠ maltos kalendros,
10 VŠ alyvuogių aliejaus,
4 VŠ raudono vyno acto,
1 VŠ druskos,
2 VŠ pomidorų padažo (be priedų).
Gaminame:
Džiovintus pipirus užpilame karštu vandeniu ir palaikome pusvalandį. Nusausiname, išimame sėklytes ir kotelius. Aš to nedariau, nes reiktų padidinamojo stiklo. Pipirus ir kitas sudedamąsias dalis sudedame į kombainą ir sumalame,  neapsižiūrėjus sudėjau nemaltus kmynus, tai jie tokie ir liko.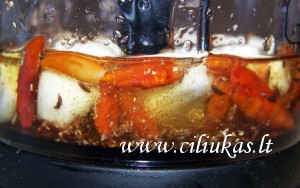 Paskutinis akcentas – pomidorų padažas.
Harisą galima gardinti pora šaukštu pomidorų padaž0.  Laikyti sandariame inde šaldytuve arba uždenkite maistine plėvele. Jei ant viršaus užpilsite ploną aliejaus sluoksnį šaldytuve galėsit laikyti apie mėnesį.
 Aštri, labai aštri harissa… pasaka…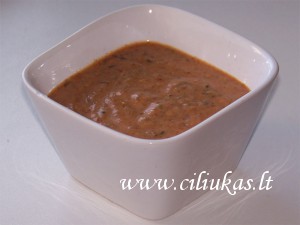 Šaltinis: čia.
Kategorijos: Greitai paruošiama, Padažai, Receptai
Atsakymai į "Harissa – džiovintų čili pipirų harisa": 587